The best lighting for TikToks, Reels, and other content creation

It's no secret that content creation has exploded over the last decade and it's only getting bigger. While that's awesome because it gives us endless opportunities to market, self-promote, and share info with similar people, it has a downside too.
Unfortunately, the scale of social media and content marketing puts an immense amount of pressure on content producers to figure out how to stand out. Not only that, but you need to figure out how to cut through the crowd on a regular basis while staying one step ahead of trends.
To ensure you're producing high-quality TikToks and Reels, it's absolutely essential to nail your lighting. Read on to learn what type of LED lights are best for content creation and why.
LED white lighting for quality videos


Good lighting vs bad lighting
Depending on the type of TikTok, Reel, or post you're creating, natural light is great for filming yourself. If you're filming midday, try to get outside or position yourself in front of a large window. But filming content midday in perfect sunlight isn't always an option because the sun isn't in the perfect position 24/7.
Which leaves us with artificial indoor lighting more often than not. However, standard light bulbs can leave shadows on your face that are less than attractive, can create a yellow tint that doesn't flatter anyone's complexion, or it can leave your content looking dark and gritty.
To avoid this type of bad lighting, make sure to use LEDs (light emitting diodes). LED lights not only produce stronger luminosity, but also use less energy while they do it.
That means you can create better lit content while simultaneously producing less greenhouse gases and spending less on your electric bill. Win-win.
LED white to warm for range of natural light
Remember when we said natural light is the best option for filming? Well the next best thing is to mimic daylight with high-quality LED strips or bulbs. To avoid the dreaded yellow tint, make sure your LED lights can emit a "daylight" shade. The colour temperature of the sun midday is approximately 6000K, so finding a light that can emit that shade will give your content a natural, sunlit tint.
However, one of the best features of LEDs is that they can emit multiple shades of white. By choosing a light that can change the colour temperature it emits, your setup will be flexible and can be tailored to the specific type of content you're creating.
The image below shows a quick view of how colour temperatures appear to the eye across the Kelvin scale.
Shades lower on the Kelvin scale (3000K) will produce warmer glows, which will give your content a more relaxed, ambient effect. Whereas shades higher on the Kelvin scale (6500k) will produce bright, white-blue light, which is great for digital content with a more serious tone.
Great options of lights that can hit every colour temperature on the scale are LIFX White to Warm, Candle White to Warm or LIFX Colour.
Smart lighting for advanced control
Lights that illuminate your space in a flattering way that aligns with the vibe of your intended content is a bare minimum. But by using smart lighting for TikTok videos, you can take it a step further. Anyone who has created content knows that a 5 second video can easily take 5 hours to make (RIP, our social lives). So cutting down on any set up or production time is a serious advantage. By using LIFX smart light features like Scenes and Schedules, you can streamline your processes to ensure you're producing quality content as quickly as possible.
Scenes: set multiple lights to their perfect shade, colour, and brightness depending on the type of content you're creating. Then save the settings as a Scene for future use. Label each Scene as the types of content (i.e. "recipe video" or "TikTok dance") you're shooting so that you've got the lighting right with the click of a button every time you want to create.
Schedules: Preset when you want your lights to turn on, brighten up, dim, or change colours throughout your video to add enhancements and effects.
Voice control: Integrate your lights with smart home systems like Siri iOS or Amazon Alexa to control your lights with a single word mid-shoot.
Lastly, if you've got an entire room in your house designated for content creation, a LIFX Smart Switch will be an absolute game-changer. Not only does LIFX Switch make your average lightbulbs smart, and but you can program entire Scenes on each individual button for perfect lighting in a single click.
RGB lights for creative videos
Creating colourful visuals in the background of your TikTok videos and Reels is a great way to stand out in the endless scroll. Not to mention you immediately look cooler because of them.
Using LIFX Colour (a colour changing LED light bulb) in a standing lamp is an easy way to splash bold colours across your walls.
Pro Tip: to create a cheap and easy backdrop for photography shoots…
Place a long sheet of unrolled white paper in two stands, or tape to your walls.
Then place two lamps on either side of the paper, at two different heights.
Use LIFX Colour bulbs to splash two different colours on the paper from different angles.
Your photograph will appear as though you've edited a professional, vibrant backdrop into your curated content.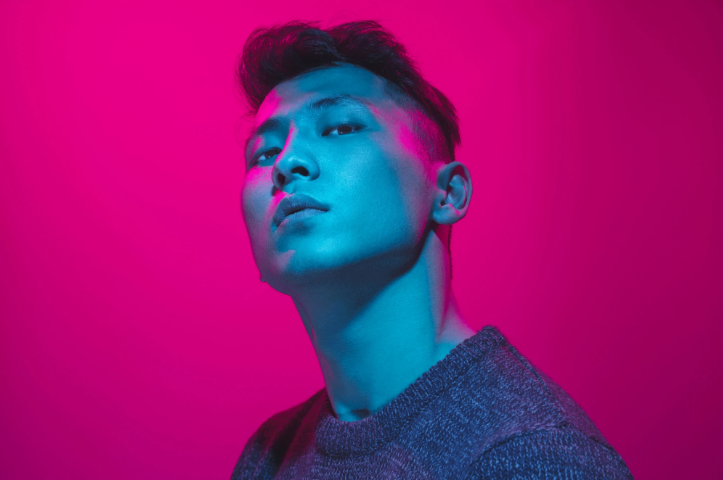 Likewise, with Schedules, Scenes and Effects, the LIFX Colour can transition from one colour to another for a unique background throughout a video. But LIFX Polychrome products are what's really going to upgrade your branded content.
With LIFX Candle Colour, LIFX Beam, and our LIFX Lightstrips, you can paint whatever colours and patterns you'd like onto your light. The colours on our RGB LED light strips will work together to create an ombre effect in a single light, then animate the colours to create movement effects like waves or candlelight flickers. That means you can create a colourful video that's uniquely yours while also skipping time-consuming post-production editing.
Behind the scenes lighting for content ideation and editing
Every good content creator knows that 80% of the work is done before and after filming. Great content marketing doesn't happen without successful brainstorming, planning and editing phases, which can take far longer to complete than the filming or shooting phase.
LIFX Candle White to Warm and LIFX Colour lights are perfect for before and after shooting for two reasons:
They can help you cut down on the time it takes to prep and finalise
They can provide mood lighting that will actually fuel your creativity.
Lights for saving time on setting up for content creation
Setting up your content studio can be time consuming. Especially if you film multiple videos per day but each requires a different aesthetic. But you can cut down on set up time by saving each of your LIFX lights' settings in a Scene.
With a single button, have your space lit and ready to film with the perfect colours, brightness and effects for your specific content. Switch to a completely different Scene in seconds (changing all your lights at once) for a different type of content creation when you're ready to film your next video.
Lights for fuelling your creativity pre and post-production
Lighting has been scientifically proven to change how we perform when we're working. While bright white light around 6500K (as mentioned above) has been proven to enhance focus and performance, deeper amber light around 3000K has been proven to enhance creativity. This is because amber lighting signals to the hormones in your body that it's time to relax.
When you're working on your content strategy or content writing at the beginning of your content creation process, switch your LIFX lights to a bright white to keep your mind sharp and efficient.
But when you're brainstorming the creative aspects of your content, shift your lights to warmer ambers. The best part about LIFX lights is that it can hit both shades in a single bulb.
Use the link provided below to shop through our collection of nanoleaf ranges.
---
Leave a comment